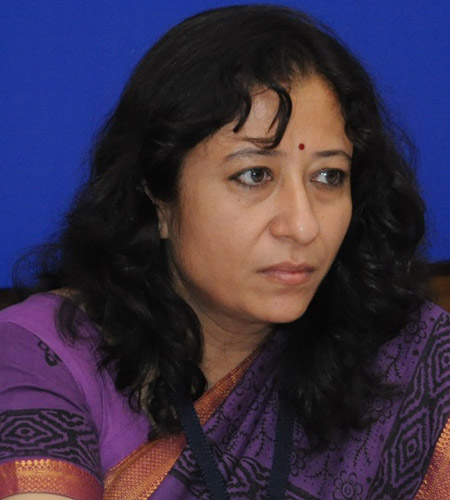 Contact Info
Email: bijalb@mahilahsg.org
Bijal Brahmbhatt
Director
Bijal has extensive experience in, and broad knowledge of intersectional challenges that are mediated through housing and habitat, governance (lack there-of), informality, and gender for low-income urban communities and migrants in cities. She represents and advocates for the rights to improve living conditions, foster climate resilience and overall economic security, through socio-technical approaches and women-led models, never to miss important opportunities, advocate across multiple scales, and break silos.  
Her work of over 20 years in cities can be best summed up to be in the areas of formal, informal, and invisible governance for housing and habitat—an amalgam of individual/ household/ community and city-level activities; strategies through which women can seek public goods and services central to their well-being; voice and agency essential for making claims on the state and spaces for participation (social capital),  all of which happen outside of the gaze of formalized governance arrangements. Her programmes have helped women participate in city-level initiatives, a small step to make cities inclusive. She constantly engages with markets for pro-poor solutions, and with policymakers to solicit not just marginal improvements but driving system-level changes.
Bijal is a Fellow (2015) of the Womanity Foundation, Switzerland; a finalist of Schwab Foundation's Social Entrepreneur of the year, India. She was awarded the Surya Mitra National Award for creating sustainable energy assets for equitable access in Urban Areas by the Selco Foundation.
She is a member of the InsuResilience Gender Working Group  of the InsuResilience Global Partnership which works towards gender-sensitive Climate and Disaster Risk Finance and Insurance solutions and she has contributed to the InsuResilience Global Partnership Declaration on Gender. 
Bijal holds a degree in Civil Engineering and has a certificate in Urban Planning and Management, from the Institute of Housing Studies, Netherlands. Bijal is fluent in Gujarati, Hindi, and English.