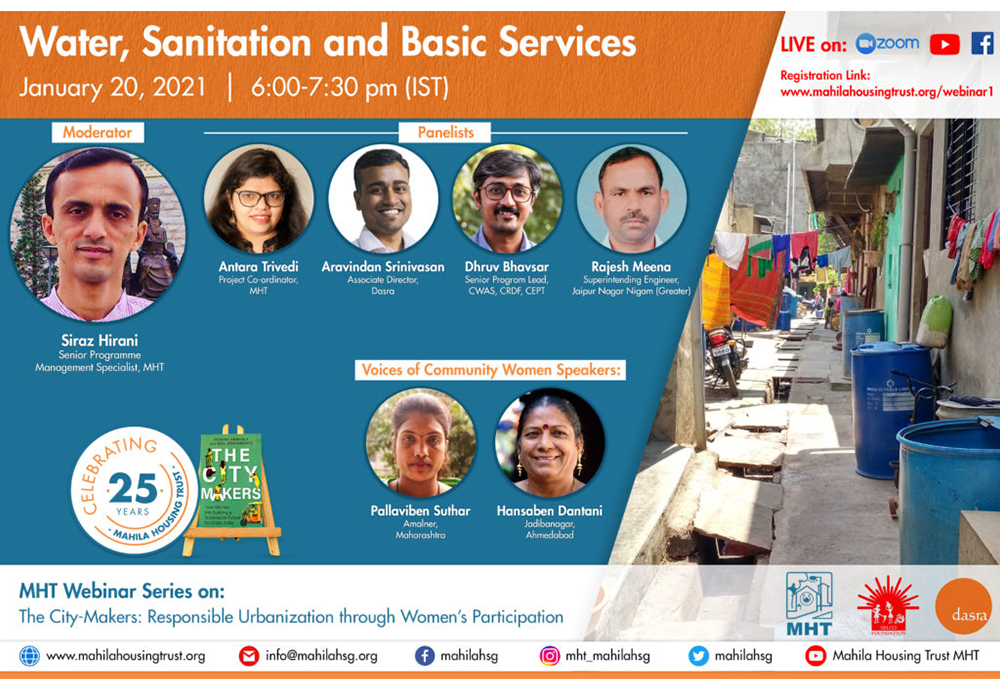 Insights_'WATER, SANITATION AND BASIC SERVICES'_Webinar 1
Insights_'WATER, SANITATION AND BASIC SERVICES'_Webinar 1 Mahila Housing Trust (MHT), on the occasion of its silver jubilee is organizing a Webinar Series, The City-Makers: Responsible Urbanization through Women's Participation, with support from SELCO Foundation and Dasra.
Under the series, six webinars are scheduled between January and March 2021. The first webinar on: 'WATER, SANITATION AND BASIC SERVICES' was scheduled on January 20, 2021 from 6:00 PM to 7:30 PM (IST). Kindly visit this page for more details about the Webinar.
This webinar series is an integral part of the 25 years of celebration of Mahila Housing Trust that we have launched last year, which includes the publication of a book 'The City Makers' .
We focused on the following Key Question in the Webinar: What are the gaps in reaching sustainable water and sanitation to the last mile and how can they be plugged?
­­­­­­The objectives of the Webinar were:
Discovering the means through which the cities are planning to cover the gaps with respect to water and sanitation specially for the poor.
Understanding the tools/plans/efforts that are required to make water accessible and manage the water crisis for the last mile along with the strategies that need to be undertaken to manage and maintain the Open Defecation Free (ODF) status.
Exploring the challenges and potential solutions to ensure last mile WATSAN access particularly in Tier 2 & Tier 3 cities.
Examining the role and importance of Community Based Organizations (especially women and adolescent girls) in bringing access to clean water and sanitation infrastructure and driving behaviour change.
Our esteemed panel shared insights backed with their experiences and perspectives towards bridging the gap The Webinar was moderated by Siraz Hirani, Senior Programme Management Specialist from Mahila Housing Trust. To set the context on this webinar, he shared thematic status of access to water, sanitation and basic services to urban poor.
A note on the context he shared:
"World is facing worst public health and economic crisis of the century. Government across the globe are putting the best effort to minimise the adverse impact of this crisis on the health of the citizens and economy. This crisis has taught us many lessons, but also has re-emphasized the importance of having universal access to individual water sanitation and other essential services. Investment made by the Indian Government through its flagship programme life Swachh Bharat Mission(SBM) probably helped us to contain the Covid-19 infection in India, as many more people today have an access to individual water and sanitation services compared to few years back. But on the other side, pandemic has surfaced the harsh reality of equity in access to these basic services.
We all know that frequent hand washing was suggested as a key defence against Coronavirus but still 94 million Indians, more than three times population of Australia live without a source of clean water and at a time when access to water and sanitation is essential to protect people from this pandemic or any other health crisis. In both urban and rural India lack of better facilities and need to use community water sources and toilets has pushed the challenge and fight against this pandemic and limiting to spread this , contingent upon hand washing and maintaining physical distance. It is practically impossible to prevent infection through common water and sanitation sources especially when the common facilities in urban slums don't have any arrangement for this infection. This is the ground reality – we have large population of people residing in slums and hence ensuring access to individual water and sanitation facilities still remains an unfinished agenda. On other side 2/3rd of India's 718 districts are affected by extreme water scarcity as per NITI AAYOG numbers published last year. This calls for a better water conservation strategy at local level which government is attempting through Jal Jeevan Mission and Jal Shakti Abhiyan. Water, Sanitation and Basic facilities which is given for most of us attending this webinar might take a decade for the poor to acquire."
Two pre-recorded videos, voices of community women project participants whose quality of life were upgraded with MHT's intervention were also played in the Webinar. The first video was of Hansaben who could daily save two hours when Parivartan Yojana eased the access to basic amenities. The home-maker-cum-domestic-worker made most of her saved time to be an entrepreneur. The webinar traced her journey! The second video was about Pallaviben, a headstrong bahu, Pallaviben persuaded not just her in-laws but her neighbourhood as well to have HH toilets with sustainable water supply!
Dhruv Bhavsar, Senior Program Lead, CWAS, CRDF, CEPT talked on the Performance Assessment System- monitoring Water and Sanitation Services at Scale. He explained, "We can't improve what we can't measure! With this idea- the Performance Assessment System was conceptualized for urban water and sanitation services." Rajesh Meena, Superintending Engineer, Jaipur Nagar Nigam (Greater) talked on his experiences with the : Jal Shakti Abhiyan, Jal Jeevan Mission, Har Ghar Nal Se Jal & Jal Shakti Ministry. For better implementation of schemes introduced by the Government, he opined, "We collectively need to Act."
Antara Trivedi, Project Co-Ordinator, MHT shared her experiences on making Amalner Open Defectaion free and addressing water scarcity issues. She shared the way in which her team was successful in addressing the issue of scarcity of water by revival of a non-functional Well which was as an aid to the community members. She shared visuals of her team's work on making Amalner Open Defecation Free along with behaviour change practices. She concludes her talk by sharing, "Women are most affected ones when it comes to lack of basic services. The burden of household work in absence of WATSAN services falls on women whether its fetching or carrying water or facing discomfort, assault and harassment while defecating in open. Therefore, their participation can give appropriate and sustainable solutions."
Aravindan Srinivasan, Associate Director, DASRA shared insights on the funding landscape on water and sanitation especially for the urban poor. He shared, "There are some key categories of funders in this sector. Since SwachhBharatMission, there are infrastructural donors. Secondly, there are strategic funders who take a long-term bet on sanitation. There are also value chain funders who are looking to create scale at speed. In this case, we see convergences happening, with river pollution, health, informal workers etc." He added, "We saw quite a bit of momentum in fundraising in the space when the focus was on frontline sanitation workers and how to enable municipalities to create the right work conditions. Secondly, there was also interest in fundraising for municipalities and their operations." He concluded his talk by sharing, "He said, "Essentially the human aspect of sanitation needs to be right in the front and centre to make fundraising a positive exercise. We need to amplify the voices on the ground."
Moderator Siraz Hirani concluded the webinar by key take-aways.
-The issue of equity has to be addressed at the planning stage to ensure most vulnerable are not left behind because they require these services the most.
-Water conservation is going to be a big issue in the coming years and it is essential that we address these issues by developing local and sustainable solutions.
-We need to encourage the use of tools like PAS to ensure the equitable delivery of the essential services because when huge resources are allocated it is extremely important that we measure the impact and such kind of measurement system help us to understand where are the gaps and identifying those gaps helps us to plan what is the next phase of our project. This will be helpful not only for the Administration but also for funding agencies who are forthcoming into investing In water, sanitation and basic services.
-Resources need to be mobilised in tier II and III cities so that the development can keep pace with the rapid urbanisation.
The webinar was hosted on ZOOM platform and LIVE casted on MHT's Facebook page: @Mahilahsg. It was LIVE tweeted on MHT's Twitter handle: @mahilahsg. The recorded version is available on MHT's Youtube channel. Policy makers, researchers, international organisations, NGOs, academia and many others participated to discuss and debate !
Check Out: Related Blog