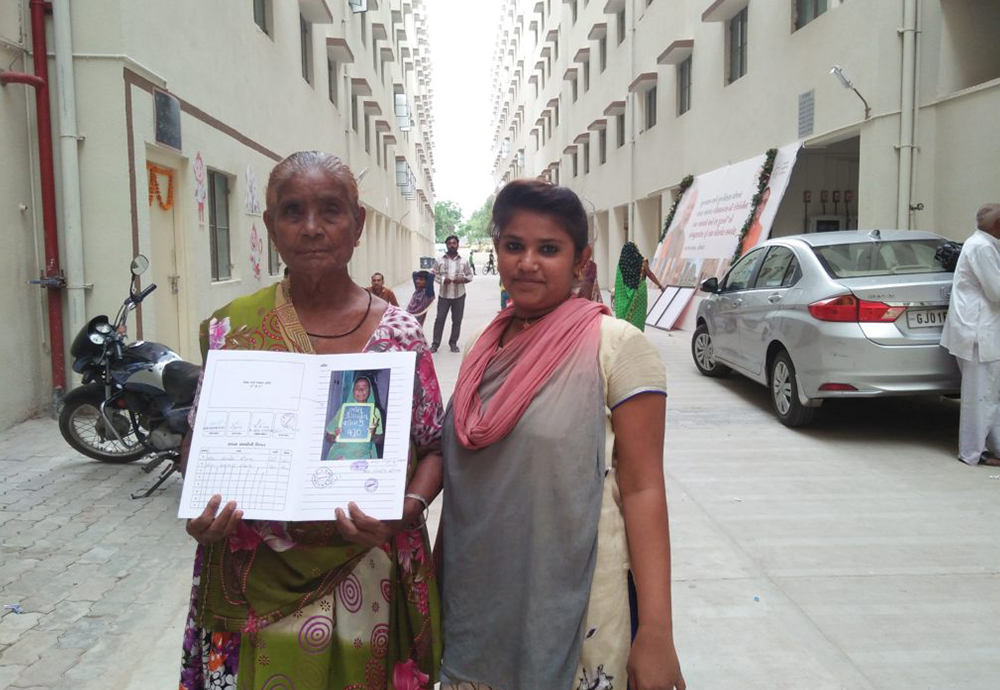 Enabling Access to Formal Housing
MHT enables the participation of poor communities in government housing programs by creating awareness, mobilizing them to access finance, and supporting them in the application and participatory planning processes. Here we highlight our achievements from Ahmedabad and Ranchi.
Ahmedabad
Since 2010, MHT has been working with the Ahmedabad Municipal Corporation (AMC) and real estate developers in implementing slum redevelopment projects under the Public Private Partnership (PPP) policy. MHT is engaged in 13 slum sites, involving 14000 poor households.
In October 2017, the redevelopment of one of the slum sites, Laxminagar was completed and the residents were handed over the keys of the apartments. MHT had been working in Laxminagar Na Chhapra since the last 2 years, playing the crucial role of an advisor and interface organisation between the slum community, the developer (Nila Infrastructure) and AMC. In less than two years, the slum was transformed into a Cooperative Housing Society with 609 apartments and 21 shops, fully equipped with water, sanitation and electric facilities, neatly paved pathways, a temple and a garden.
Ranchi
Rajiv Awas Yojana (RAY) was initiated by the Indian Government in 2009 to improve the conditions of slums by providing the inhabitants with 90% of the cost to replace their substandard houses with new housing on the same land. MHT was invited to be the Project Management Consultant by Ranchi Municipal Corporation to implement the program in the city. Taking a beneficiary-led approach, MHT trained and developed the leadership capacities of women through Community Action Groups, facilitated individual loans and helped them register their properties. A total of 973 households benefited from the program. On the 2nd of October, all beneficiaries received legal rights to new houses from the Chief Minister of Jharkhand.