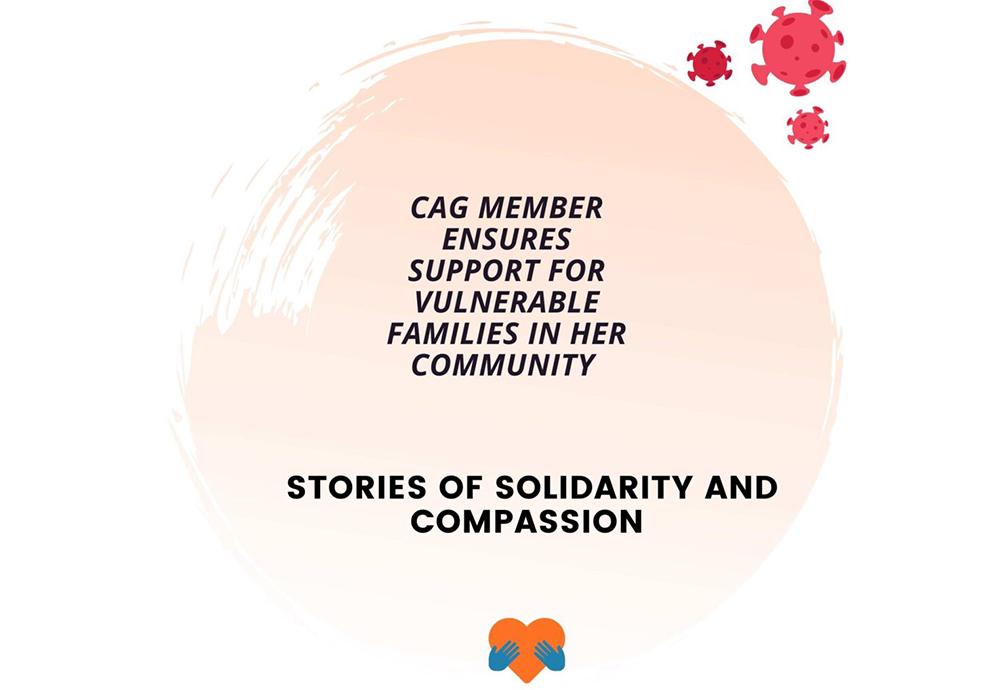 Stories of solidarity and compassion: CAG member ensures support for vulnerable families in her community!
Stories of solidarity and compassion: CAG member ensures support for vulnerable families in her community!
June 16, 2021adminBlogNo Comments
Stories of solidarity and compassion!
MHT Jodhpur: CAG member ensures meals for vulnerable families in her community
The second wave of Covid-19 has hit slum families hard. Most of these people are daily wage earners, who are struggling to make ends meet. In Jodhpur, a lockdown was imposed in April this year and many families couldn't step out to work.
In Pakvisthpt Colony, Kaliberi, Jodhpur, three families were facing extreme troubles. Guddi and Ramesh Bheel live with their three children. Guddi collects fodder for cows and earns around INR. 1650 per month. Her husband is intellectually disabled who is not a condition to contribute to family's income. The second family: Janki Devi, 85, a widow, lives with her intellectually disabled son. Her monthly pension helps her buy essentials. The third family: Gudi and Bhawarlal live with their three grandchildren and are supported by a relative- a construction worker, who himself struggled because of no-work days during lockdown.
Nuri Mehram, a member of the Community Action Group (CAG) formed by MHT, got to know about the situations of these families. She cooked meals for these families for a few days initially and delivered to them, on their door-step. She then approached the officials at the Jodhpur Nagar Nigam if the families can be supported through the Indira Rasoi scheme, which solaced the three families' hunger for a couple of days. Further, she called out for cash support from neighbours to support these three families. Unstoppable with her grit, she listed these families vulnerable whom MHT supported with food ration kits.
The families are currently coping up with the ease in lockdown restrictions by finding some work opportunities. The timely help by Nuridevi assures her role as a CAG member who ensures supporting her community by making use of all the resources she could. Identification of families who need support and supporting them till the relief reaches them, is crucial. Hence Nuridevi's actions are even more appreciable.
MHT Delhi: CAG member ensures support for a vulnerable family
Reshmiben, a daily wager lost her work for a couple of months during lockdown. It was tough for Reshmiben – a mother of five daughters, wife to an alcoholic and abusive husband who couldn't step out to work to manage the meals for six of them. The crisis got worst when she got infected by the COVID-19 virus and the savings almost got exhausted. The neighbours chose not to interact with the family in fear to get infected themselves leaving the family in struggle to have meals as well. When Zarinaben, a member of CAG (Community Action Group) formed by MHT heard about Reshmiben in Savada JJ colony, she reported this to staff at MHT Delhi and the family was supported with food ration, basic medical resources and details of Covid-19 behaviour when one in the family is infected. Zarinaben's call to MHT to support Reshmiben's family was a valuable contribution to the well-being of the latter's family.
MHT Bhopal: CAG members in need themselves yet shares a portion of their ration kit with a neighbour
To combat the second wave of COVID-19, Mahila Housing SEWA Trust is supporting vulnerable families with food ration kits to help them combat the second wave of COVID-19. MHT lists most vulnerable families to compensate their loss of livelihood and ensure their food security. In one such food ration support drive organized in Kanhasaiya, Bhopal a collective-act-of-kindness moved us. Three needy families supported by MHT with food ration kits, shared a portion of their ration with one of the community member- Susheela Lodhi, whom they thought was in-need. Lodhi, a tailor raises three children on her own after she lost her husband last year to tuberculosis. She had moved away to her village because it got difficult for her to sustain during the lockdown period with no work opportunities; so when MHT's CAG members did the needs-assessment of their slum and listed the names and numbers of vulnerable families to be supported with food ration, her name was not mentioned, as she moved away for over a month and know one knew if she would return to the slum.However, when this incident was notified, all the families were supported equally by MHT. In times of crisis, when community stands for each other it assures of a path towards sustainability!
To combat the second wave of COVID-19 MHT is giving food security support to compensate loss of livelihood. After a systematic need-assessment done by CAG members, food ration kits are provided to vulnerable families across 11 cities which lasts for a month for one family.