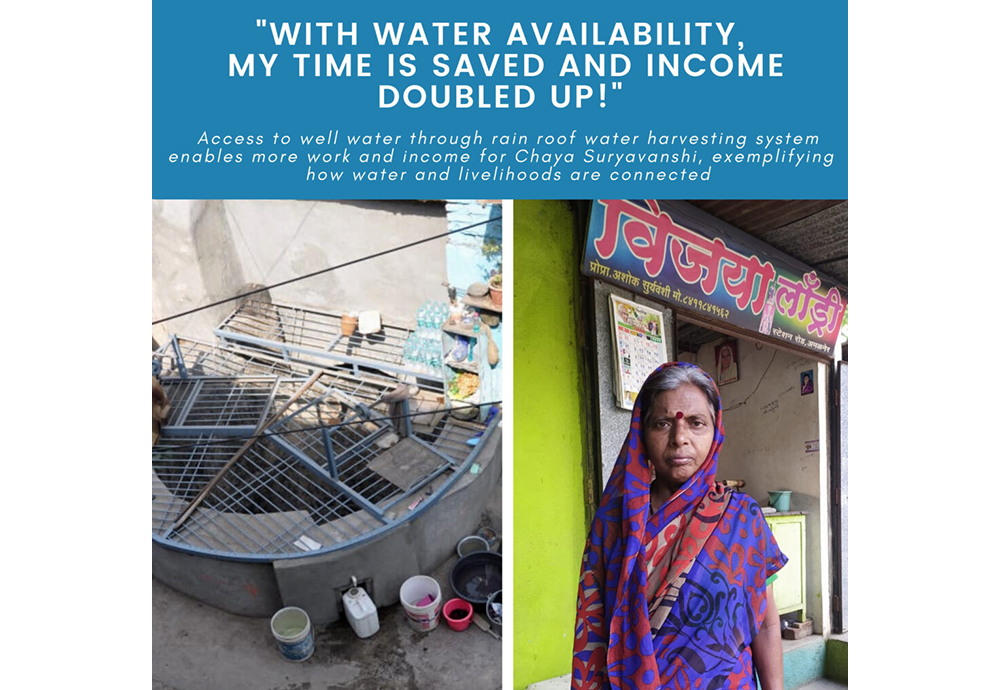 "With water availability, my time is saved and income doubled up!"
"With water availability, my time is saved and income doubled up!"
June 2, 2021adminBlog, Featured NewsNo Comments
Access to well water through roof rain water harvesting system enables more work and income for Chaya Suryavanshi, exemplifying how water and livelihoods are connected!
MHT Amalner
Chaya Ashokrao Suryavanshi owns a laundary shop in Bhandarakr Jinn slum, Amalner. The community is able to get water from the Amalner Nagar Palika (ANP), on every 5th day because of water scarcity. They store it for their domestic and productive needs. She could work on 10 clothes/day (INR 300/day) because of limited water availability and make INR 9000/month. When there was a need of more water for washing clothes, she used to walk for ten minutes, cross the road and get water from a local MLA (Member of Legislative Assembly) office, on request and walk back towards her shop, burdened with filled water jars/buckets.
With a series of dialogues with the community there, 18 households were chosen by MHT filed organizers after a technical survey who then agreed to collect roof water which was then navigated to the well in their area through the roof rain water harvesting system. The existing well was dug upto 30 feet, water pipelines were installed and the well was repaired.
Chayatai is elated, because water has started to accumulate in this well. This will benefit 300 more people of her slum.
Now, she doesn't need to make requests and walk with heavy jars/buckets filled with water to wash her customers' clothes. While she is able to save on time, she also has an easier access to more water, meaning: productive use of it to scale her work and income. She now takes work of 25 clothes/day (INR 750/day) , making INR 22,500/month. Her income has elevated more than double which means better quality of life for her family of three and better education for her child.
The reviving of well has happened with support from Misereor under the project, 'Building Women's Water Resilience: Ensuring Climate Preparedness and Sustainable Sanitation in Amalner, Maharashtra.'
Check Out: Related Blog