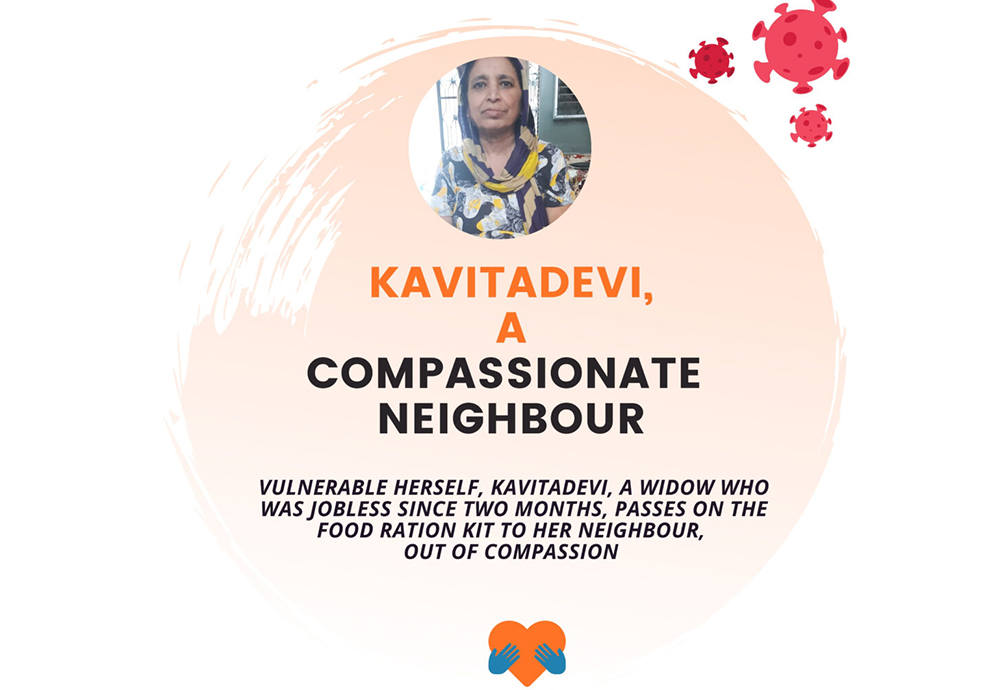 Kavitadevi, a compassionate neighbour
Kavitadevi, a compassionate neighbour
May 29, 2021adminBlog, Featured NewsNo Comments
Vulnerable herself, Kavitadevi, a widow who was jobless since two months, passes on the food ration kit to her neighbour, out of compassion
MHT Jodhpur
Amongst the slums MHT works in, to upgrade lives of urban poor, women members of Community Action Groups(CAG) identified most vulnerable people, to support them to combat the second wave of COVID-19.
Kavitadevi, a 56 years old woman from sector 9, Chopasni Housing Board, Jodhpur is daily wager who used to work in a factory and make INR 5000/month. Her situation was identified vulnerable as she has not been able to work for over two months due to the lockdown. In a family of 5, Kavitaben, a widow, stays in a room and cooks her food separately as relations with her son and his family of four, are cold.
When she was given a dry food ration kit with the support MHT received from Dasra, which could last upto a couple of months for her, she passed on the kit to Musakandevi, 49, her neighbour, who is into laundry work. "In her family of six, she and her father-in-law do the work to make the ends meet. They make around INR 2500/month. She herself was a COVID-19 patient and their income also suffered because of the lockdown . Her husband is not keeping well to be able to contribute to the family " shares kavitadevi. She added, "I have some savings left and also get INR 500 via the widow pension scheme. The family of six surely needs food support, more than me, hence I gave my kit to her."
Kavitaben joined her work again once the lockdown restrictions were eased. Both these families were supported by MHT after knowing the situation.
How the poor are standing in solidarity during such crisis is heartwarming.