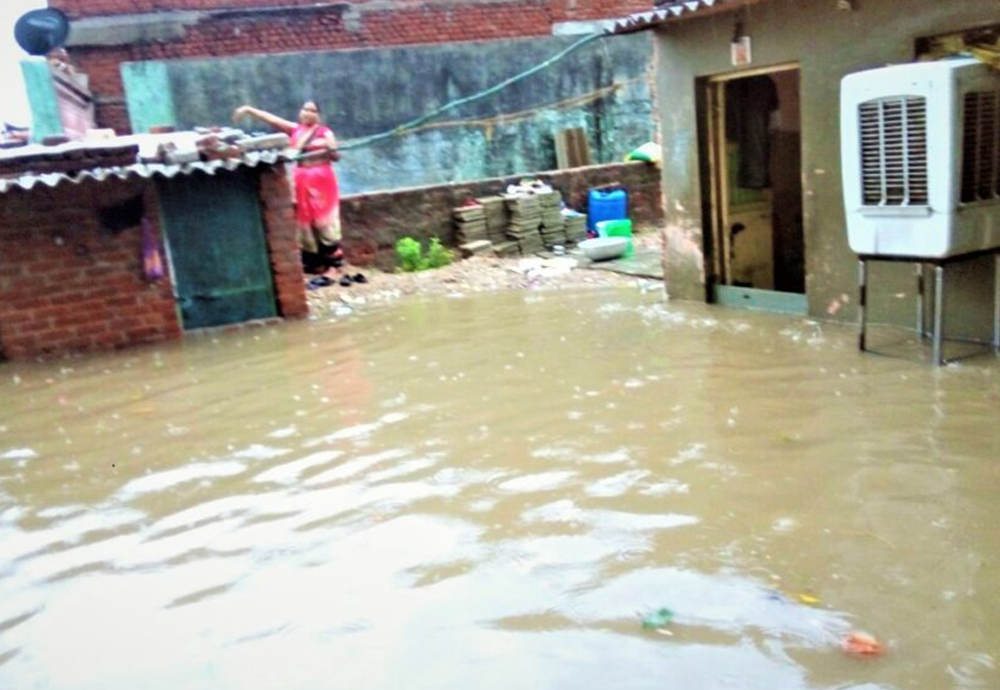 Flash Flooding Solutions: The Story of Vrundavan Park Society, Ahmedabad
Based on the case study of flooding alarms.
Low-lying areas with limited infrastructure are particularly susceptible to flash flood damage during the monsoon season. Poorly constructed streets mean that roads become waterlogged and homes flood. Vrundavan Park Society in Odhav, Ahmedabad, is one such area. Vrundavan Park Society used to be a settlement with informal homes and a few shrubs. The Ahmedabad Municipal Corporation (AMC) had not yet provided water and sewer connections in the area.
Radhikaben lives in Vrundavan Park Society with her in-laws and her two daughters. She has worked with Mahila Housing Trust (MHT) for four years and is a member of the Community Action Group (CAG). Realizing her community needed basic infrastructure fixes, and empowered by her connections with MHT and her CAG, Radhikaben filled out the paperwork for the 90:10 scheme, a program where 90% of the infrastructure installation cost is borne by the AMC and 10% is provided by the residents. This program meant that streetlights, gutter lines, and access to water services were installed in the community.
But the infrastructure improvements were not enough. When a massive monsoon struck at 4 a.m. in 2017, residents of Vrundavan Park Society awoke to dirty water from the street flooding their homes. Panicked residents contacted Radhikaben because she was recognized as a leader and had gotten resources to the community in the past. She quickly called the AMC, which brought three large water pumps to remove water from people's homes and arranged for food to be brought to residents' doors twice a day.
The rains damaged infrastructure, ruined food stores, broke appliances, destroyed furniture, submerged cars, and worst of all destroyed important personal documents that are very difficult to replace. Radhikaben knew this could not happen again.
In 2018, it rained again in the early morning. But this time people were prepared. A prototype alarm had been installed in Radhikaben's home: a household-level intervention designed by MHT to ensure that people could prepare for monsoon flooding. The alarm went off at 5 a.m. as it began to rain. People woke up and shifted all their valuable belongings to the first floor while Radhikaben called the AMC to have them pump water out of homes. The early morning activity ensured that homes were prepared for floods by 10 a.m. Residents headed to work, knowing that their homes and valuables would be safe. The year before, they had been forced to take 2-3 days off work to clean up after the flood's destruction, forgoing necessary wages.
Because of the alarm, residents are alert, vigilant, and aware when it starts to rain.
"There was an advantage this year because of the alarm," said Radhikaben. "We immediately knew, woke up, and were prepared."
The residents were pleased with the alarm for waking them up and ensuring they could prepare for the monsoon. However, they wished the alarm was louder, so more community members could wake up and prepare their homes.
"If this alarm is louder, so more people can be alerted and more information can be spread quicker, so people will be able to protect against water better," noted Radhikaben. "The more people know, the better."
Blog Courtesy: Sarah Wasik