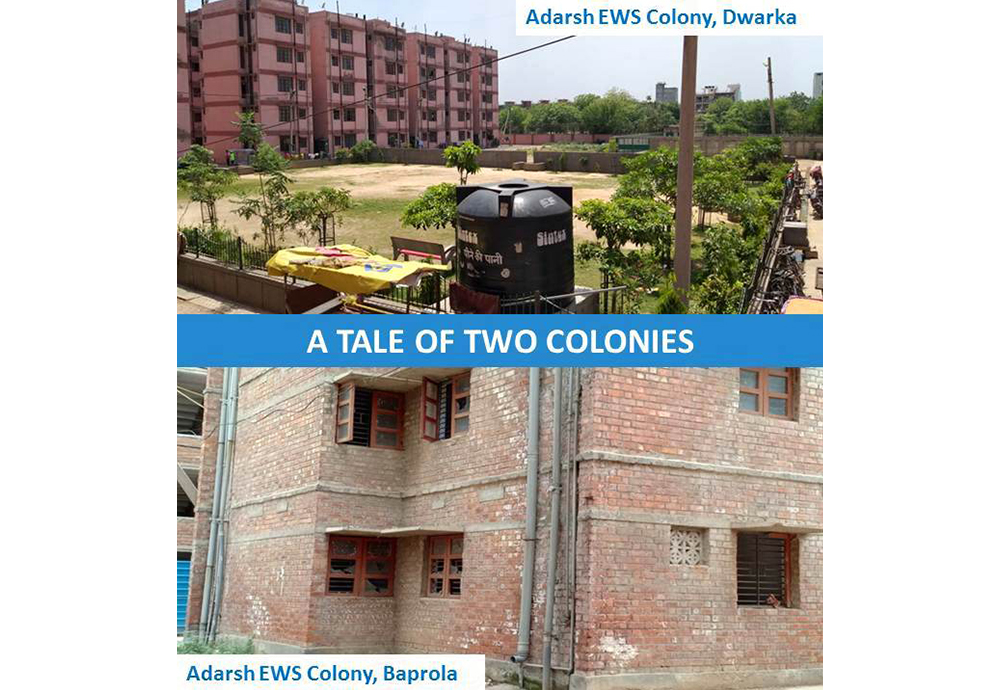 A Tale of Two Colonies
I would have begun with something along the lines of "It was the best of times, it was the worst of times…", if only I had the verbal prowess of Mr. Dickens; the sentiment stands true for the story about to be told.
Recently, my work has taken me to resettlement colonies scattered across Delhi. From colonies that have been around for over 40 years, located in the heart of the city, to more recent, isolated settlements that continue to lack access to basic amenities such as piped water and sanitation facilities. As the city's population continues to grow exponentially, land is becoming increasingly scarce. In an attempt to address the issues of some slums, the Delhi Urban Shelter Improvement Board (DUSIB) has changed its policy to focus on flat-based resettlement and in-situ development.
I visited two such resettlement colonies, both having been occupied less than 5 years ago. These 'EWS (economically weaker sections) flats' are 1BHK flats that have been allotted to residents who were displaced from other colonies. They have been given a lease of 10 years for the flat, which they can neither sell nor sublet. However, due to a range of issues, including financial constraints, many sell the 'power of attorney' over the flat to others. This means that the new occupants lack bargaining power or rights over these flats.
Common concerns that emerge when they are resettled in this manner are a loss of their homes and livelihood. Often, families that have lived in a particular slum for decades, and have spent a great deal on the construction and improvement of their homes, lose all that they have built in a matter of days. They are displaced to opposite ends of the city, where they have no sense of belonging/community or employment opportunities.
The two colonies I visited are the Adarsh EWS colony in Dwarka, and Baprola. Having been to a few resettlement colonies around Delhi by now, I mentally prepared myself to expect something similar. However, when we approached the Adarsh colony in Dwarka, just 5 minutes by e-rickshaw from the nearest metro station, the picture was very different.
With a neatly-tarred road, green parks, piped-water, and closed drains, the apartment complex appeared to have basic facilities that are able to cater to the needs of the 1000 odd families that reside there. Each flat has a well-lit and ventilated drawing room, kitchen, bathroom-cum-toilet, and one bedroom. The flats appear to be well maintained, albeit modest in size.
When they were allotted the flats, residents had to pay Rs. 1,12,000 or Rs. 1,000, depending on whether they belonged to the General or SC/ST category. Additionally, all allottees had to pay Rs. 30,000 as maintenance fee for a period of 5 years.
The greatest concern for the residents of this society remains the lack of livelihood opportunities. Having been there for just 3 years, the residents are in the process of rebuilding a community around their new homes. While some travel to their old areas of residence and continue to work there, others are looking for opportunities near Dwarka. Many of the women residents have become domestic workers in the colonies nearby. Income has been meagre since they came to this colony, but things are starting to pick up.
The most heartening thing to hear was an anecdote that a resident shared. He explained that when they were to be relocated, they were given three options: Bhalswa (plot), Baprola (flat) or Dwarka (flat). Their first preference was to get a plot, but when the policy changed, the options were between Dwarka and Baprola. The residents visited these two sites and chose Dwarka, submitting a petition to the Chief Minister that the entire slum be relocated to this colony in toto. Their petition worked and the rest, as they say, is history.
My reflections following this visit were that this type of resettlement may not have been a bad deal, all things considered; then I visited Baprola.
Located on a road (I use this word very loosely; a collection of potholes might be a more accurate description) in the middle of nowhere, it is easy to miss Baprola JJ colony as it resembles other ghost colonies along the way. The buildings are brick and cement, but just barely. They appear dilapidated and unfinished, having not even been painted or whitewashed. The buildings have been so badly constructed that the waste water from the bathroom seeps into the kitchen. Without foundational columns, they are on the verge of collapse and a serious hazard to the people living there.
In terms of infrastructure, they hardly have any. While piped water is available, it is only for a few hours. This water cannot be consumed, so a community drinking water tank has been placed in the middle of the colony. When I visited, the tank was leaking, making the only source of drinking water scarce by the minute.
Some of the residents shared their distress of living in this colony. There are no facilities nearby, be it medical, educational or transportation. Most families have lost their livelihood and struggle to find employment nearby. The lack of transportation makes it difficult to commute to their earlier employers. What was most heartbreaking was to hear that there is no crematorium or graveyard close to them either. When someone in the colony dies, they take the body back to where they earlier lived to bury them.
These residents, unlike those of Dwarka, were given no choice in the matter. They were allotted flats in this colony and had to pay Rs. 68,000 or Rs. 1,000 for the 10-year lease, in addition to the Rs. 30,000 for maintenance. I've visited about 6 resettlement colonies, some multiple times. When I spoke to the residents in each of them, they said they would like to get ownership rights over their homes and continue to build their lives in these colonies. This was the only colony where the residents, despite having spent so much on the lease already, said that they would not want to get ownership. As a resident succinctly put it, '(Woh) bolte hai gareebi hatao. Aise ghar mein gareeb dabke marr jaayenge' (They say 'eradicate poverty'. By living in such houses, the poor will be crushed and killed.).
Truly Dickensian.
Roshini Diwakar