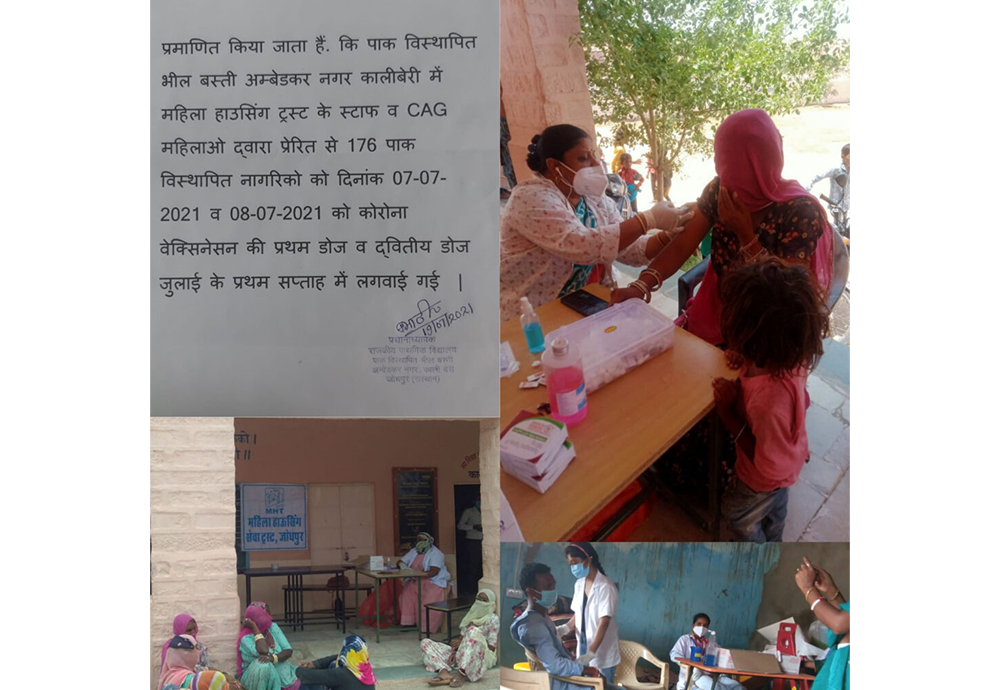 MHT co-facilitates special vaccination camps for urban poor
MHT's Community Action Group's (CAG) women-leaders have been addressing vaccine hesitancy, establishing vaccine confidence and encouraging urban slum communities to get vaccinated.
There are several reasons why communities hesitate for vaccination. Myths and fear have gripped the communities. Moreover, when they are now allowed to step-out and work after a gap of partial or complete lockdown, they fear that post-vaccine sickness might restrict them going for work, yet again, eventually affecting their income and increasing their financial burden. It was also noticed that the commute expense till the vaccination centre, digital divide (inability of poor people to book appointment using web portal or application), discouragement from other community members, lack of awareness on reaching the vaccination centre, vaccine shortage in some cases, did affect the number of people vaccinated.
Responding to these situations, the CAG women leaders instilled vaccine confidence amongst many in the community, through online and offline meets. Sharing factual information, myth-busting, facilitating online registration, counselling the anxious and fearful, inoculating slum-level influencers, experience sharing by vaccinated people, post-vaccination non-monetary care and support have been ways in which vaccine hesitancy is being addressed.
Additionally, MHT also facilitated special vaccination camps for specific slums beyond there continual mobilisation and assistance of people to be inoculated at government allotted vaccination centres which has led to vaccination of 7490 urban slum dwellers from 10 cities
The special camps were organised at slums where communities hesitated visiting the vaccination centre but were ready to be inoculated and at slums where organising special camps was only a way to inoculate the other-wise reluctant community members. These camps are co-facilitated by local level administration in different ways. MHT has always worked in a way that capacities of women leaders are built and they approach the local administration for their community's wellbeing.
Ranchi
MHT Ranchi's CAG women-leaders contacted City Control Room, Health Department who facilitated mobile vaccination vans for 7 slums. The officials there however put forth a condition that they will facilitate vaccination camps only if 20 individuals from each slum were ready to be jabbed and they carried their Identity proof at the camp. The women leaders assured that people turned up with their Aadhar card. It is to be noted that these women-leaders also belong to the same socio-economic group alike the communities who are mobilised by them; but because they are more informed, aware and have knowledge on approaching the local, city, state government through trainings by MHT staff; they could facilitate these camps. Empowered women surely make a difference!
Further they approached Ravi Munda, an elected representative to facilitate a special vaccination camp for one slum- Premnagar. People who turned up for vaccination camp at Premnagar is noteworthy. For this slum, 100 doses of vaccines were ordered and 81 people got jabbed by the end of the camp- which is a great number for this community who would have otherwise delayed or not taken vaccines at all. This slum had most number of people turning up for vaccination. This is a vertical slum, where people have been relocated from the informal settlements through the In-Situ Slum Redevelopment (ISSR) – PMAY (U) and now have legal houses, by support of MHT staff. The community residing here trusts that anything MHT's women-leaders would propose would be for their good. The partially literate community has limited access to smart phones. Three CAG women-leaders convinced the community to get jabbed. They have been sensitising the community for more than a couple of months. Additionally, Kusum Devi, a CAG member and resident of the same slum, herself got jabbed which instilled even more confidence amidst the community ultimately resulting in good vaccination number here.
For a couple of other slums in Ranchi, camps were organised twice; because during the first camp, only a few people got jabbed and few were still hesitant or did not bother to skip work and stay-back for this purpose. When these situations were noticed; on request, another camp was organised at two of these slums to cover most people.
A total of 11 special camps in 8 slums were organised in June and July 2021, through which, 307 individuals are vaccinated.
Jodhpur
At Jodhpur, MHT has been encouraging slum communities to get vaccinated. Further, to get more people vaccinated, Maheshkumar Bhati, Block Level Officer (BLO), was contacted. This officer is known to MHT's work of slum upgradation over the past many years. With efforts from CAG women leaders alongwith facilitation from Block office officials, two camps were organised at Ambedkar colony, first on July 7 and 8 where 176 people were inoculated and other on July 27 where 110 people were inoculated. With the many strategies adopted by the CAG women leaders to encourage more vaccination, here it was tipping the vaccinated people with a LED bulb. Such low-key but essential motivator did result into getting more number of people jabbed.
Ahmedabad
Mahila Housing Trust (MHT) invests in developing 'collectives of grassroots women' to ensure responsible urban development, that sustains beyond MHT's engagement. MHT trains and amplifies the voices of poor women from slums so they can address issues of their own communities and engage at community, ward and city-level governance. Years of engagement with MHT enabled an understanding of governance, for Dominiben. She is CAG women leader at MHT who also is a member of Government's Sakhi Mandal Yojana. She herself got inoculated with first dose of vaccine, on April 6 and imbibed confidence amongst her community that vaccination is safe. Yet, her community people were reluctant. "They agreed to be vaccinated but feared going to the vaccination centre. I was glad that after weeks of counselling and encouraging, they finally agreed and hence had to do something that they wouldn't need them to step-out of the community. So, I approached the Sakhi Mandal to facilitate a special vaccination camp for Sadguru park slum", shared Dominiben. In spite of no formal education, how an empowered women enabled this camp because she had knowledge of the government schemes and ways to avail benefits of it, is noteworthy. On April 8, 2021- 40 people were vaccinated through this camp.