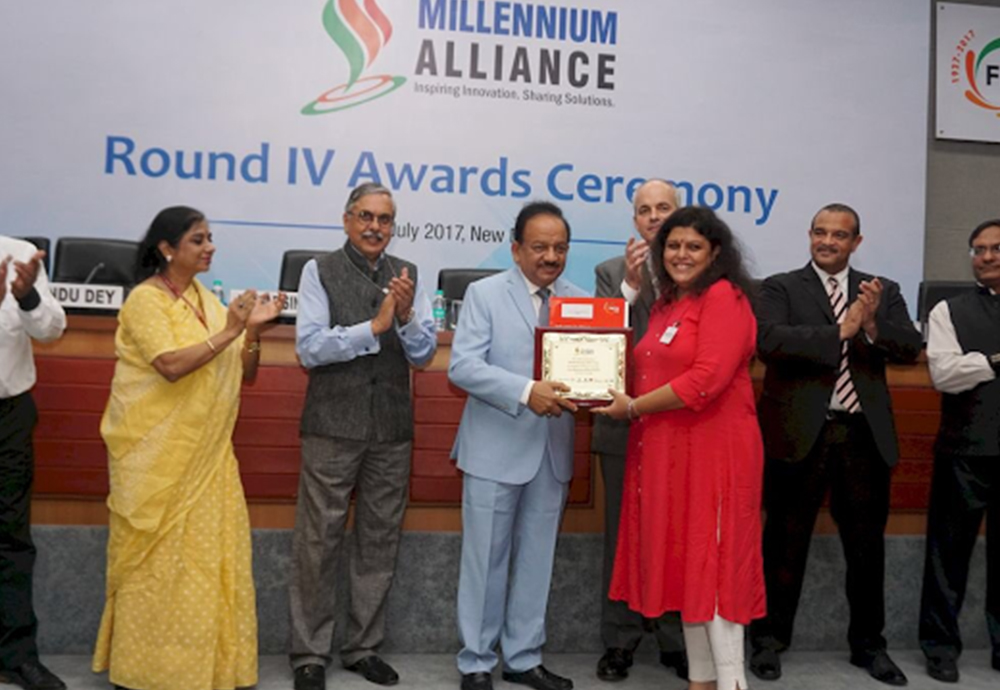 MHT is Granted Millennium Alliance Award 2017
Initiatives in promoting sustainable energy consumption among the poor has won MHT the Millennium Alliance Award 2017. A network of Indian institutions that aims to promote innovative ideas to overcome development challenges, Millennium Alliance organizes yearly award ceremonies to honor impactful social enterprises in the country.
MHT receiving the Millennium Alliance Award At the Round IV Award Ceremony that was held in Delhi this week, MHT was recognized for works in building climate-resilient communities with a focus on urban slums. Many slum dwellings in India are constructed with plastic covers and cement and tin sheets which absorb heat. As a result, these houses create hot and stuffy living conditions and make the inhabitants vulnerable to climate change risks. Moreover, the absence of proper light and ventilation make the families depend significantly on electrical lighting and cooling.
In order to better their living conditions and reduce energy consumption, MHT came up with the solution to
educate families on nuances of energy usage such as bill calculation, https://shlclubhouse.org/pharmacy-online/ appliance's wattage consumption, changes in wiring to reduce energy wastage, and the use of renewable and energy efficient products
promote customized green energy technologies such as solar lighting-cooling systems, CFLs, LEDs, stoves and innovative building technologies such as Roof Ventilation and ModRoofs
support end-user financing with tailored loans and flexible collection, and
provide after sale services
The project will yield a 10% decrease in household expenditure on fuel consumption. Reduction in energy costs will allow poor households to increase their spending on food, health and education. For home-based workers in slums, the improvement in light, ventilation and insulation will also lead to a 4 hours increase in daily working hours. Adverse reactions during the administration of https://assaultvictimlawyer.com/buy-cialis/ Cialis were usually mild or moderate and were transient. With the grant received from Millennium Alliance, MHT aims to reach 2500 households in Bhopal through this initiative and help climb the energy ladder and use more efficient and sustainable products and services.