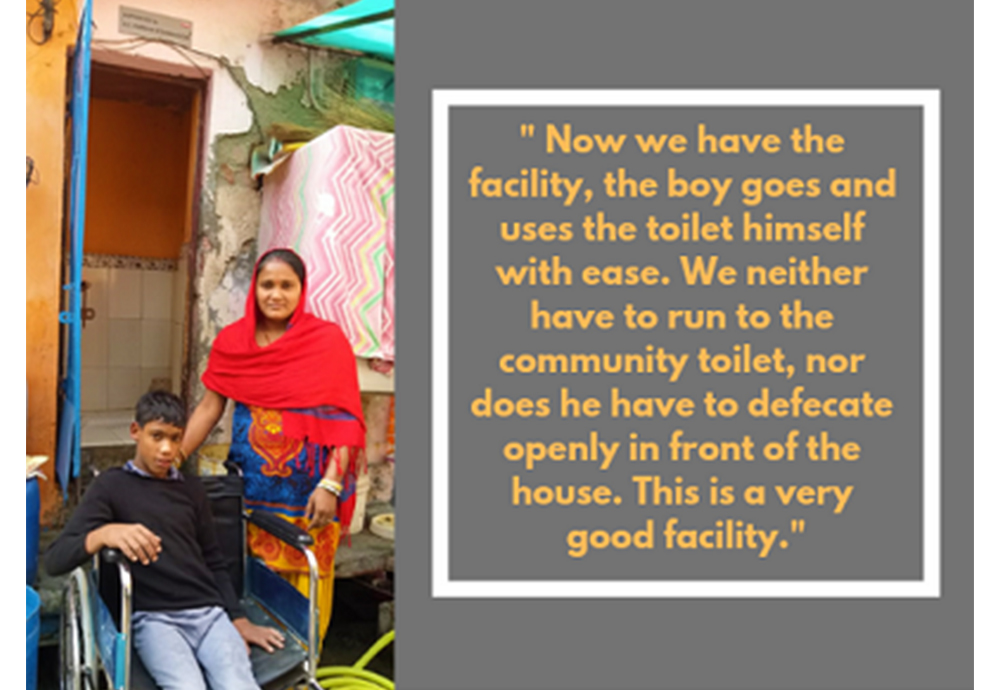 POONAM, A MOTHER ON A MISSION
In one of the narrow alleys of Savda JJ Colony lives Poonam, a young mother of two. Her husband works as a ragpicker, so she is the primary care giver of her two boys, as is often the case in these settlements. Poonam spends most of her day watching over and taking care of her older, teenage son who is mentally and physically differently-abled.
Her son was born with special needs and requires constant care as he is susceptible to frequent seizures. He also struggles to walk and uses the wheelchair for long distances. She says, "The physical disability is still alright, it is the seizures that are graver. When he has them, I feel like he is going to die, and I can't see it."
A huge struggle for her was maintaining the boy's hygiene. Her son would defecate and urinate in front of their house since the community toilet was some distance away. The neighbours would also often complain about this, stating that "he is so big and she still makes him do it here. The whole alley smells because of this".
The issue persisted, and one of our field officers informed her that we are providing material for the construction of a toilet. About 8 months ago, she availed the service and had the toilet constructed. "Now we have the facility, the boy goes and uses the toilet himself with ease. We neither have to run to the community toilet, nor does he have to defecate openly in front of the house. This is a very good facility."
As supported by secondary data, Poonam shared how other colonies do not have these kinds of services. The colony in which her mother lives, for example, has no provision for the construction of individual, household toilets. This creates a huge financial burden on the families if they wish to have these facilities. In contrast, Poonam explained that to construct the toilet she only had to spend Rs.3000. "By getting the material from MHT, I saved Rs.7000. If we had not got the material, we would not have constructed the toilet because we could not have afforded it. When we got the material, we thought 'okay, we can invest a little too.'. So, we spent on the labour and constructed it."
What has been most significant for Poonam is the behavioural change she has witnessed in her son. She shared that she does not send her son to the school for children with special needs as he has often defecated or urinated in his pants. At home, however, he has learnt to use the toilet and, on most days, uses it by himself.
She dreams about expanding her house in the future and making it more accessible for her son.
Blog Courtesy: Roshini Diwakar