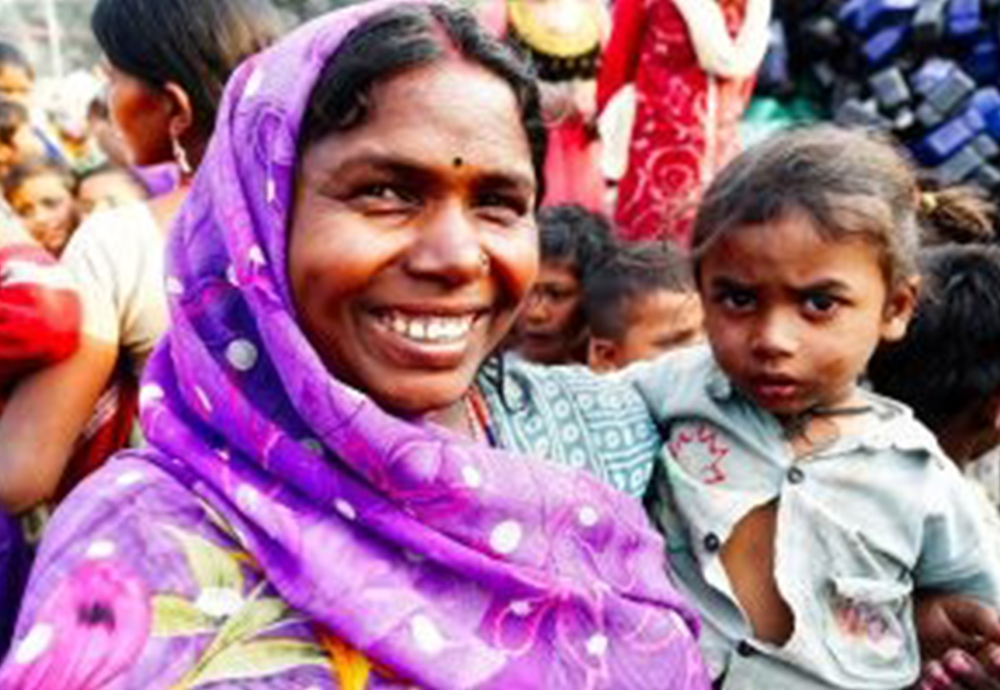 Women Emerging as Leaders in Fixing India's Slums
The collective might of women must be harnessed as a powerful, necessary force for change.
Despite an initial global decline in slum populations at the start of the millennium, 190 million people are estimated to live in informal settlements throughout South Asia. And with India on track to surpass China as the world's most populous nation by 2030, the number of people living in these circumstances is climbing.
As a result of their "informal" citizen status, slum dwellers are continually deprived of basic rights and sanitation, while a lack of land rights leaves them vulnerable to displacement. Although such living conditions are difficult for everyone, it is the women responsible for supporting their families – through earning an income and providing care – who are most affected by this deprivation.
By supporting women within these communities, it is possible for them to overcome this vulnerability and build resilience – not only to social exclusion and prejudice but also climate change, which is becoming an increasing threat.
With soaring temperatures in slums reaching up to 50 degrees Celsius, flooding and inundation increasing water and vector-borne disease outbreaks, and the scarcity of safe drinking water worsening, mitigating against climate impacts in these areas has never been more vital.
Promisingly, improved financing and technology are playing an increasingly important role in the improvement of slum habitats across India. From toilet loans to sustainable eco-roofing and cool transportation, effective and affordable solutions now exist to improve sanitation and protection against climate issues like heat stress.
But for these innovations to reach the grassroots level of communities – and create real, lasting change – involving women is essential.
Women are part of the fabric of India's urban communities and play a key role in infrastructural development. More than half of the country's 30 million construction workers are women with little to no training, yet they are often tasked with back-breaking work like digging and mixing cement and paid much less for their labor than their skilled male counterparts.
However, pioneering institutions like the Karmika School of Construction Workers in India demonstrate how providing fundamental training to low-income women does more than just equip them with practical skills.
It empowers them to bargain for better wages from their employers, command much-deserved respect from their peers and ultimately build a better future for themselves, their families and their communities. More than 20,000 women have been trained by the school – and counting.
As ongoing initiatives like this show, women can have a resounding impact on improving community living situations if they are given the chance – and a voice.
While organizations like the Karmika School of Construction Workers provide a foundation for the literal building of better homes, community action initiatives are similarly invaluable, by getting women to advocate for improved infrastructure and facilities.
Through organizing and empowering low-income women in Community Action Groups, Mahila Housing Trust trains grassroots leaders – known as "Vikasini" leaders – to actively engage in and influence city-level governance and development policy decisions.
Since this advocacy work began, habitat conditions and hygiene services have notably improved across Ahmedabad and further afield, with more than 17,000 houses built, 48,000 households receiving safe drinking water and 56,000 gaining access to toilet facilities in relation to Mahila Housing Trust's empowerment work.
Plus, given the intensifying impact of climate change, the trust has launched a program designed to help low-income communities build climate resilience. Operating in seven cities across India, Bangladesh and Nepal, this initiative is supporting residents to deal with challenges including heat stress, water scarcity, flooding and inundation, as well as water and vector borne diseases.
More than 1,500 women have been trained as "climate-saathis," or climate companions, in Ahmedabad, Bhopal, Ranchi, Jaipur, Bhubaneswar, Dhaka and Kathmandu. In these roles, they are responsible for spreading awareness of climate change within their communities, conducting audits to help residents use energy more efficiently, and lobbying for the installation of innovative mitigating solutions, such as sustainable, cool, eco-roofing. In excess of 27,000 women in more than 100 slums have been reached by this work so far.
Equipping women with the skills, knowledge and confidence to improve their living conditions is undoubtedly having a tangible impact on women throughout Indian slums. But there is more work to be done. This successful model of motivating and mobilizing women to demand better homes and facilities for themselves and their families can – and must – be extended elsewhere.
As urban populations continue to rise and the need for climate change resilience becomes even more critical, the collective might of women must be harnessed as a powerful, necessary force for change.
By Bijal Brahmbhatt for The Diplomat
Bijal Brahmbhatt is director of Indian non-profit Mahila Housing Trust.