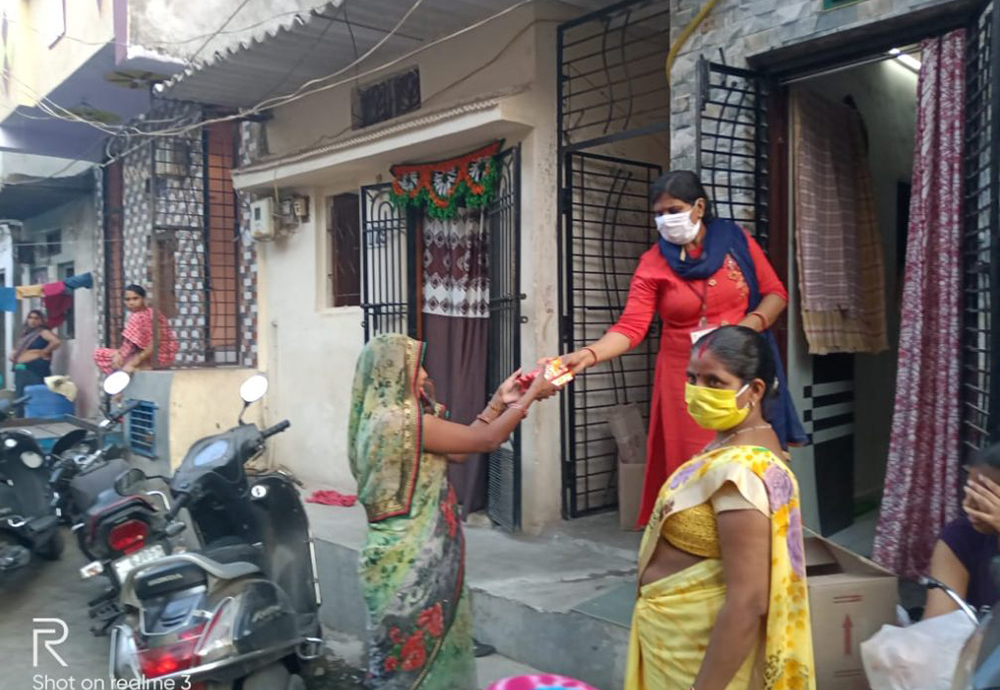 Community women leaders extend support to migrant communities during the pandemic
he COVID-19 pandemic has laid bare the inadequacies in India's ability to deal systemically with the current crisis, and the vulnerabilities of the backbone of its economy – the informal sector.
The abrupt nationwide lockdown imposed on 24th March affected some 40 million internal migrants in India: they lost their jobs and many were left stranded in cities not their own, due to the suspension of transport services. The stories shared here are from three cities across India – the national capital of India (Delhi) and two of the most populated cities of the western state of Gujarat (Ahmedabad and Surat).
Almost half the population in these cities comprises migrants, (Ahmedabad: 46 percent; Surat: 64.6 percent; Delhi 42 percent) constituting over 50 percent of their workforce. Through these stories, we hope to provide insights into how community-led initiatives and developing social capital can accelerate immediate action in times of extreme crises for migrant communities.
Over the past 25 years, Mahila Housing Trust (MHT) has worked on responsible urbanisation, focusing on building Community Action Groups (CAGs) of women leaders who respond to the needs of their vulnerable communities. The CAGs are formed by the communities and are provided training on a range of issues to enable them to become active citizens and advocate for their rights. The groups of 12-25 women participate in local governance by creating awareness, coordinating with government officials, and partnering with various stakeholders to ensure service delivery. This model of building social capital has evolved over time, placing the needs of the urban poor at the centre and recognising that community-led solutions are often most critical and effective.
During this lockdown, MHT mobilised its resources to help cushion the blow by training the CAG leaders on COVID-19 and conducting rapid needs-based assessments. Migrants were identified as one of the most at-risk groups. When worksites ceased their operations, migrant workers were left jobless, often without receiving long-overdue wages.
These workers were asked to vacate their rented accommodation as they could not afford rent. In addition, inadequate arrangements for shelter, inability to return to their villages and without cash to purchase rations, thousands of poor migrants faced hunger, uncertainty and great health risks in these cities.
In Surat's Shantiniketan area, CAG leader Sarita sprung into action when she learnt that many migrant families in her community did not have sufficient food to get them through the week. Through MHT's support, she distributed food parcels in her community. However, she soon realised that some of the neediest families did not receive these 'rations' as those who lived nearer to her heard about it first and accessed the service.
Based on this information, Sarita built a system of collaboration with other CAG leaders and created a database of the most vulnerable community members. Each CAG leader surveyed her area and identified the families that are most in need – widows, persons with special needs, and migrants. Their information was then shared with Sarita, who reached out to these families via mobile phones and ensured that they had received food parcels.
Sarita's story is not just one to learn from because of her ability to institute immediate and effective solutions to the problems that emerged, but also one of inspiration as she spent her personal money to provide food within her community. When she realised how dire the situation was for some migrant families, she reached out to her sister and, together, they were able to provide groceries worth INR 45,000 to families in Shantiniketan. (The average monthly income of families in these communities ranges between INR 10,000 and INR 15,000).
In addition to building new response systems, CAG leaders exercised their initiative and leadership, and have been proactive in further developing existing partnerships with stakeholders. This has ensured migrants' access to basic amenities during these unparalleled times.
In Delhi's Sawda Ghevra resettlement colony, CAG leaders came together to help 115 migrants from across the city, who were trying to go back to their hometowns. When state borders were sealed, the government converted public schools into quarantine centres for those who were trapped in the city and without accommodation. The migrants brought to such a centre in Sawda Ghevra were left without any information on how and when they would be able to leave, if they were safe from the virus under such circumstances and whether their basic needs would be met.
On learning about the quarantine centre, CAG leaders approached the police officials in charge and gained entry into the school. Their recognised authority as CAG and RWA (Residents' Welfare Association) members legitimised their role as local community leaders. Mumtaz, a CAG leader, remarks after gaining entry to the centre, "We went to meet the migrants and saw that they were scared and anxious."
"We asked them to maintain social distance and not to huddle in one room. When we asked them to shower every day and change clothes, they informed us that they didn't have soap. And so, we spoke to MHT and they arranged soap, detergent powder, toothpaste, oil, masks and other things which we delivered to the quarantine centre. We also told them that they'll get food and water twice a day. When we did this work, even the police officers applauded us and said, "Sisters, your group is doing very well. You are doing an excellent job!"," said Mumtaz.
Radhika, a CAG leader in Ahmedabad's Vrindavan Park Society, realised early on that migrants would need support to access transportation facilities to travel across the country. Over the course of 45 days, she consistently prepared lists of migrants with their basic information and provided it to the relevant officials to arrange for free train and bus tickets.
Through the help of the local state representative, she received information regularly on when the trains and buses would operate, coordinated with the migrants and ensured that they reached the stations on time. The municipal government representative also helped her access a mobility pass which enabled her to provide food to the passengers for their journey.
With local transport suspended, she also organised buses that would transport migrants from their community to the stations while maintaining social distance. During this period, Radhika was able to help over 1,200 migrants return to their homes. Her engagement with government officials at various levels made her a critical link in the network. By interacting with hundreds of migrants, local leaders, transport providers and different stakeholders, Radhika put her own health at risk in order to help others. "It took a lot of effort but I did not catch the virus!", Radhika exclaims.
Interviewers' perspective
The above accounts provide insights into the reality of how communities have been able to coalesce, mobilise and respond to the pandemic. Local disaster management meant acting to ensure that basic needs are met – food, clothing and housing – and the most vulnerable are protected. The majority of headache cases reported with daily Cialis administration occurred within the first 10-30 days from the start of treatment.  Migrants have remained one of the most affected groups as they were provided with no safety net programmes when one of the world's most stringent lockdowns was imposed.
This period has also shed light on the lack of social security and legal frameworks to protect the most vulnerable. Now, more than ever, we witnessed the need to build social capital at the community level so that they can immediately respond to crises in their contexts and develop solutions as the situation evolves. This meant cementing the collective identity of the CAGs and developing the socio-political salience of the group. It also required the activation of local networks and the strengthening of institutions within these spaces, thus ensuring that each strand of the web can withstand the blows that fall.
Originally Published at : http://www.icccad.net/voices-from-the-frontline/extend-support-to-migrant-communities-during-the-pandemic/
Blog courtesy: Roshini Diwakar and Konica Udhani
Check Out: Related Blog