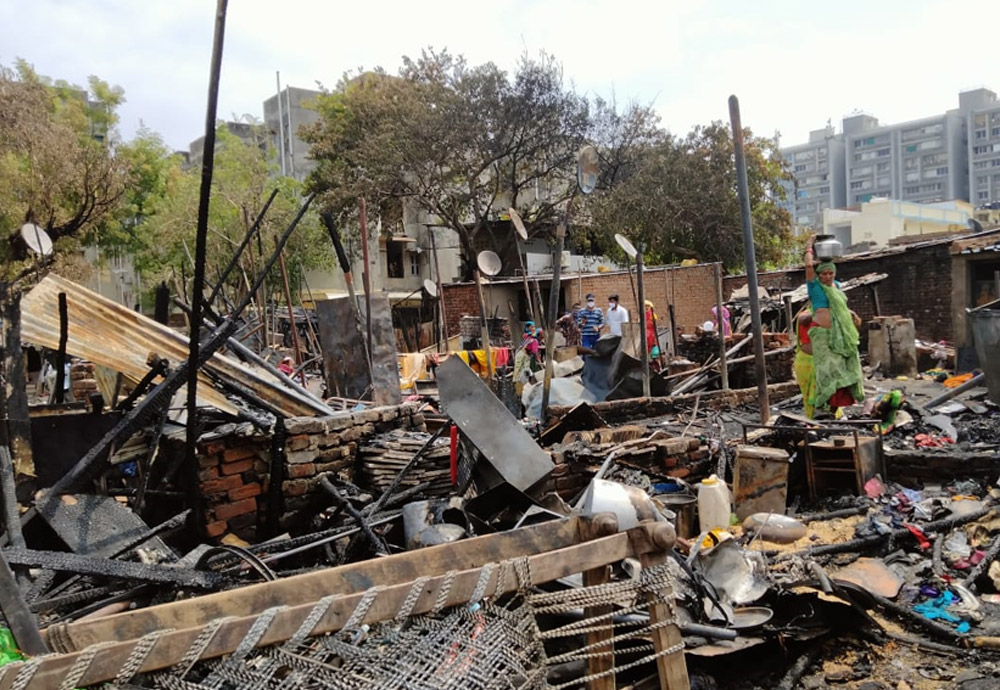 "Give us cooked meals and clothes for now"
"Give us cooked meals and clothes for now"
May 27, 2021adminBlogNo Comments
A massive fire broke in Chandra Nagar na Chhaapra, a slum colony in A'bad, destroying over 50 houses on Tuesday, May 25 morning
MHT Ahmedabad
Over 50 houses were burnt and destroyed because a massive fire broke in the slum. Families have lost their shelter, mandatory documents, little savings, essentials- everything.
Reportedly, a gas cylinder leaked and because the dwellers had covered their roofs with tarpaulin sheets to protect their houses from storms or rains similar to what they faced on May 18, the fire spread more, further leaking more 9-10 cylinders, destroying houses of over 50 families.
The officials from fire department, police and neighboring communities did rush to rescue, hence no casualties were reported.
These urban poor already suffer with frequent #heatwaves due to vulnerable infrastructure. The #COVID19 pandemic has also distressed them hugely. The #CycloneTuakte also damaged their settlements and then this fire. How are they suppose to cope up so much with such limited resources? Most of them are domestic workers.
When MHT field organizer rushed for relief, "Cooked meals and clothes", were the primary requirements of the community. As a part of immediate relief, dry snacks were arranged for the families by MHT as help from unknown agencies and individuals came in form of meals and clothes on 25th.
MHT in collaboration with SEWA Federation has arranged for Tiffin service of cooked meals for the affected families for a span of a week which will be extended if needed.Further the families will be supported for #rebuilding and #restoring.