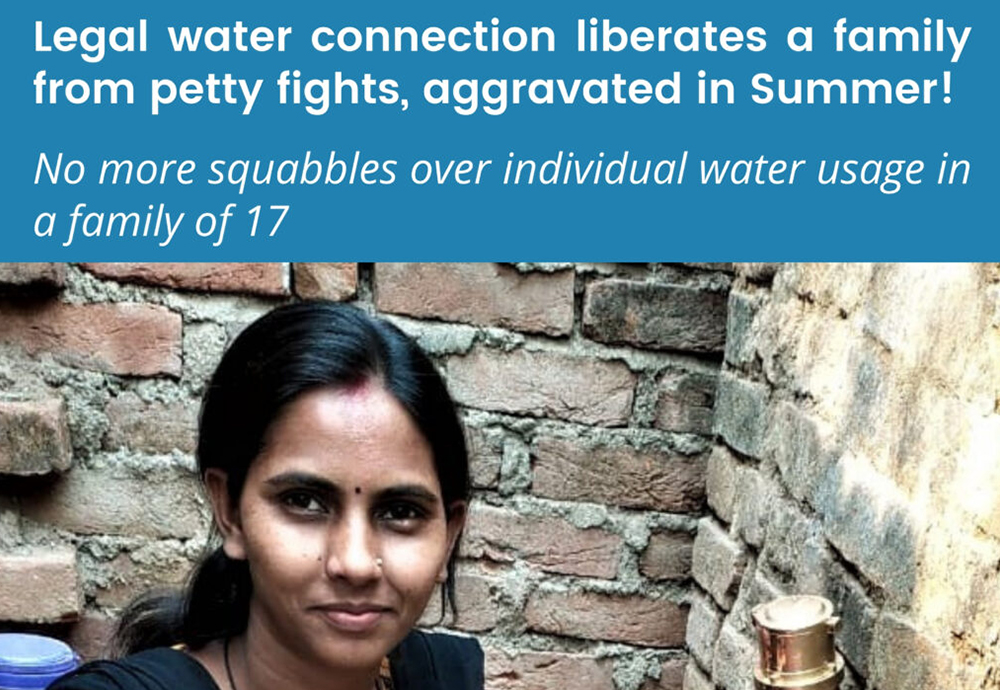 Legal water connection liberates a family from petty fights aggravated in Summer!
Legal water connection liberates a family from petty fights aggravated in Summer!
May 29, 2021adminBlogNo Comments
No more squabbles over individual water usage in a family of 17
Aneri Nihalani | MHT
Munni Devi, 27 lives in joint family 17 people in Tengra toli, a slum in Ranchi.
A day in a life of Munnidevi starts with the men (her husband and three brothers-in-law) stepping out of home for work and women engaged in household chores, children either playing in the veranda or stepping out to attend school (before the Covid-19 crisis emerged) and her mother-in-law closely keeping a watch on all. Munni Devi's family also witnesses everyday petty fights on usage of water amongst family members which emerges because of water shortage. Every alternate day, when drinking water is available for half-an-hour, women step out to fill water in jars. Each jar costs them INR 25. Sometimes, specially in Summers, water for other purpose is also bought. The family collectively spends INR 2000/month on this.
They do have a well at home but the well-water is inadequate in terms of quantity and quality- for drinking purpose, hence they use the well-water for bathing and cleaning purpose which dries up most of the times in Summer. While they opt to purchase drinking water jars, the squabbles on inadequate well-water quantity for other chores won't leave the morning ambience of Munni Devi's home. One would hear her sister-in-law taunting others on taking away more water for chores or someone else commenting on a family member taking more water from the well for bathing purpose. This aggravates those petty fights amongst her family members. It becomes more stressful for Munni Devi's family to combat extreme heat and water scarcity.
"Parivar mein paani k kaaran tanaav bahot rehta thaa," says Munni Devi. (We used to be remain stressed over the usage of water)
MHT advocates and mobilizes the Government schemes which are beneficial for the communities. In one of the Focus Group Discussion (FGD), when Munni Devi voiced this issue, MHT's field organizers explained the procedure through which she could avail a legal water connection. She was supported in filling up the mandatory documents and meeting the concerned person at the Ranchi Municipal Corporation(RMC). MHT closely works with the RMC as well. A water meter was purchased by her family and fixed at her home. Mandatory documents and fees were collected from her family and submitted to the RMC.
It took two months for MHT field organizers to fix this issue with support from Oak Foundation. This legal water connection, didn't only decrease the domestic work burden of collecting water at Munni Devi's family but liberated them from everyday petty fights.
In a country where urbanization is rapid, lack of access of WATSAN hits families residing in slums in various ways- dignity, loss of livelihood, loss of school/work days, health burden, social stress; legal water connection at household level is necessary to improve the living conditions.
Many women like Munni Devi and her sisters-in-law needs to be liberated as yet, MHT is making continual efforts.
Photo Caption: Munni Devi poses with tap water connection at her home in Ranchi.