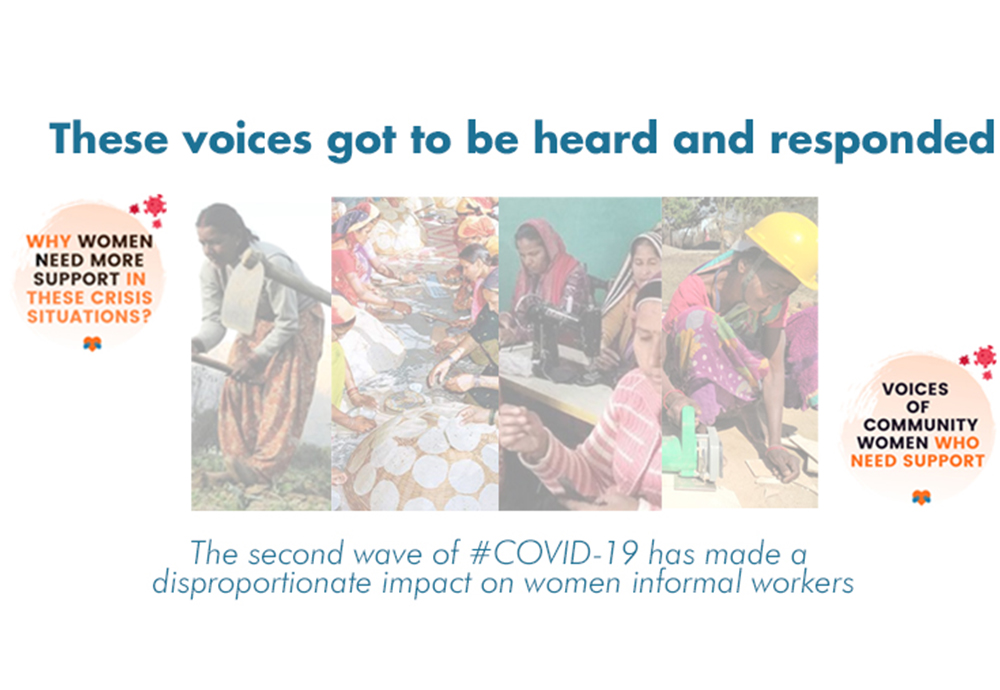 Why women need more support in these crisis situations?
Leadership tailored for community action: the story of Savda's ZarinaIn one of the lanes of Savda Ghevra, a resettlement colony on the outskirts of Delhi, lives Zarina, a resident of D-Block and the President of its only RWA (Residents' Welfare Association). Zarina is one of the many home-based workers of Savda, working as a tailor out of her home where she lives with 7 other members of her family, including three children, a daughter-in-law and two grandchildren.
Zarina's family was resettled from the Shahdara Indira Camp in 2006, when Savda Ghevra JJ Colony was first created. Her husband and son work in a factory near the Tikri border, not far from Savda. She herself has been a tailor working out of her home for decades. She makes gowns and coats for hospitals on order, as well as caters to the sartorial needs of the community. Zarina's CAG (Community Action Group) was recognised formally as an RWA when they registered it almost 2 years ago. She became involved with MHT over a decade ago, learning about how she can better engage with the community's issues and who to approach to take action. Even before forming a CAG, Zarina was active in trying to have the community's problems resolved. However, she often found that government officials did not pay heed to her requests when she went alone. When the groups were formed and collective action was taken, it was more effective. The creation of the group has not only increased their bargaining power, but also given them individually a voice when they rarely occupied public spaces. By advocating for the rights of their community-including cleanliness, hygiene, sanitation etc., this CAG has successfully built its identity within the colony as well as gained the attention of local government officials, including their councillor.
The social capital developed by this CAG over the years through their consistent efforts to improve the settlement has enabled them to broaden the scope of their work and reach marginalised groups outside their communities too. At the beginning of the lockdown, 100 stranded migrants were brought to the local government school turned quarantine centre. Zarina and her fellow office bearers were essential in not only assuaging the fears of the migrants, but also acting as an intermediary with local police and government officials. They provided much needed support to the migrants in the form of clothing, hygiene products as well as emotional support and counselling. Over the course of a month, they became essential for ensuring the safety of all involved, and their role was recognised by the police officials in-charge.
Over the past year, Zarina and her CAG have been instrumental in also addressing the needs of their community. Almost a year ago, when the country was first hit by COVID-19, Zarina recognised the demand for masks in Savda. She stitched and distributed around 1500-2000 masks for free among residents. Like the other CAGs of Savda, they also distributed around 200 kits of dry groceries to the families in most need, when they had lost their source(s) of income and were plunged into penury.
Alongside providing community support, they have more significantly, played the critical role of information disseminators at a time when misinformation has created a serious health crisis. As the months have progressed and informal workers have returned to their places of employment, the CAGs have remained vigilant in ensuring that the Covid cases in their areas are contained. Partnerships with the local government have led to health camps being organised and residents being tested regularly.
In the current context, a year since the first case was detected in India, Zarina's CAG has refocused its efforts to gain individual household access to basic amenities. Most of these informal settlements continue to depend on common water and sanitation services, putting residents at greater risk of contracting the virus. To reduce this risk, members have ensured that common facilities are sanitised regularly, and hygiene is maintained across the board. Meanwhile, they have continued their campaign to get individual water connections to each household, making them less dependent on common services.
The Covid-19 crisis has brought into focus once again the importance of local leadership and the crucial need for individual basic services. In congested yet isolated settlements like Savda, these two issues converged, with the latter providing immediate, effective and contextual solutions to the former. The fulfilment of the demand for their basic rights to affordable housing, water and sanitation, however, remains elusive.
Blog courtesy: Roshini Suparna Diwakar, in collaboration with WIEGO