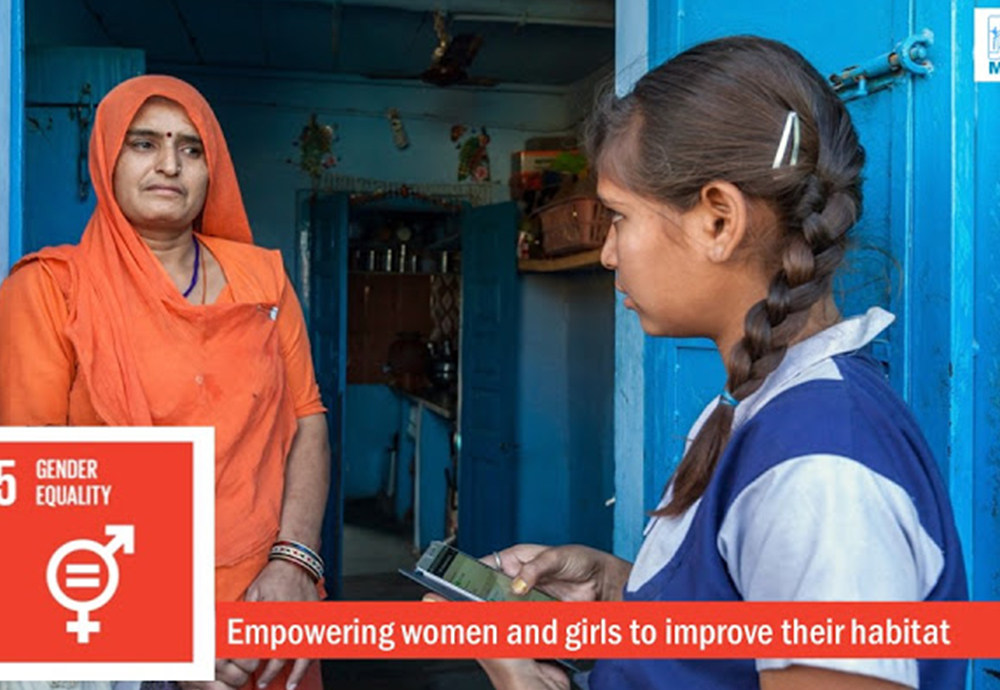 Women's Actions towards the Sustainable Development Goals: Sow One Seed and Reap a Hundredfold
15 years ago, Fakira Tank Na Chapra in Ahmedabad was merely a slum with illiterate residents. Today, however, through the proactive and strenuous works of the Mahila Housing SEWA Trust (MHT), the place has transformed into a formal apartment block with empowered women leaders. An Indian NGO that works for the betterment of habitat conditions of poor women living in slums, MHT began their work with Fakira Tank Na Chapra in 2002 by engaging the community through informative meetings about the slum networking project. As a part of the project, some women leaders were identified from the community who were then trained to actively interface with the government to improve their living conditions. In 12 years' time, these leaders ensured that every family in the community received efficient water and sanitation services, electricity, paved roads, street lighting, and their own apartments. Safe and easier living conditions led to healthy and thoughtful community, where people found more time and opportunities for livelihoods and education. Fakira Tank Na Chapra is one among 895 slum settlements from 7 Indian states that MHT has worked with thus far. MHT ensures that through its programs on Habitat Development, Climate Change Resilience and Participatory Planning and Governance, people in slum settlements have land rights and decent housing, clean water and sanitation, access to affordable energy, and empowered women leaders.
Through a focus on women led habitat development, MHT contributes significantly towards advancing United Nation's 2030 Agenda for Sustainable Development. Adopted in 2015, the 17 integrated and interconnected Sustainable Development Goals (SDGs) address various development issues ranging from ending poverty and hunger to improving health, education and environment, with a strong emphasis on sustainable urbanization.
Since the implementation of the SDGs, MHT helped 562 households to receive access to potable water and 114 households to get electricity, and installed 8,790 toilets and 2,330 sewers. Additionally, MHT also trained 1,825 female construction workers so they could access better work opportunities, counselled 4185 families on effective energy consumption, shared 3,894 energy efficient and renewable energy products with beneficiaries, and directly and indirectly helped 59,549 families to gain access to formal housing.
MHT's works help realize several of the Sustainable Development Goals. They are SDG5: Gender equality, SDG6: Clean water and sanitation, SDG7: Affordable and clean energy, SDG8: Decent Work and Economic Growth, SDG10: Reduced inequalities, SDG11: Sustainable cities and communities, SDG 13: Climate action and SDG17: Partnerships for the Goals. Access to a sound habitat makes the lives of poor people (especially women), healthier, easier and safer, enabling them to find time and opportunities for better livelihoods. Soma really helps me. As a result, these immediate results indirectly contribute to other SDGs such as SDG1: No poverty, SDG2: Zero hunger, SDG3: Good health and well-being and SDG4: Quality education.
MHT's programs stand as strong examples of how contributing to one of the SDGs indirectly addresses other issues at hand. By focusing on 8 SDGs, MHT is indirectly contributing to 4 more of the Sustainable Development Goals.
Also Read : Role of Women in Achieving Sustainable Development Goals (SDGs)