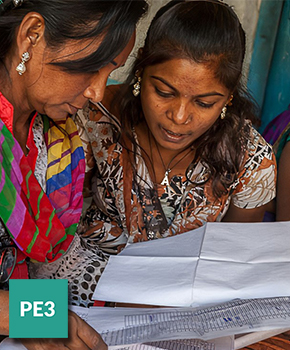 Making Home-based Work Environments Safer, Healthier and Productive: Improving the Physical Environment (Brief 3)
This brief was created by City Collab as a part of WIEGO's documentation of Mahila Housing Trust's (MHT) work to capture insights on their work that has had wide ranging impacts on the wellbeing and economic productivity of home-based workers. This brief on securing property rights for women home-based workers is the third thematic brief in the 'Improving the physical environment' category.
Low-income communities are often characterized as "informal" or "illegal" as they do not enjoy land tenure and property rights for the land they reside in, which in turn denies them access to basic services. Many communities also face constant threat of eviction. For home-based workers this means being unable to invest in their homes to upgrade and improve them. The brief captures MHT's experience of supporting low-income communities to gradually move up the tenure security continuum and pursue formal land and property titles. They especially focus on empowering women to assert their rights to property.