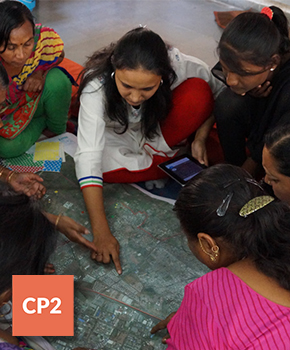 Making Home-based Work Environments Safer, Healthier and Productive: Incorporating Needs of Home-based Workers in City Plans and Policies (Brief 2)
This brief was created by City Collab as a part of WIEGO's documentation of Mahila Housing Trust's (MHT) work to capture insights on their work that has had wide ranging impacts on the wellbeing and economic productivity of home-based workers. This brief on mobility and access to jobs and markets is the second thematic brief in the 'Incorporating the needs of the home-based workers in city plans and policies' category.
Home-based workers need affordable and accessible transport services to stay connected to city networks and their suppliers, contractors, and markets. Inadequate services can be tedious and exponentially increase their financial burden, sometimes forcing them to change or quit their jobs.
MHT primarily works to build capacities of women from low-income communities to use spatial data to identify and articulate their issues and make demands of the government.