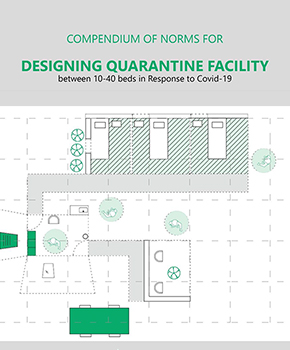 Compendium of Norms for Designing Quarantine Facility
In light of the Covid-19 pandemic, Mahila Housing Trust (MHT) strongly felt a need to develop a quarantine facility in Ahmedabad district. At the time, since the pandemic situation was relatively new, there were limited resource materials available related to design and construction aspects of Covid-19 quarantine facilities. Thus, a set of norms were developed by compiling various guidelines and other documents. The personal experiences of medical staff as well as patients facing Covid-19 were incorporated to understand the requirements. It was designed as a useful resource not just for designers and construction project implementers but also for administrators who were involved in setting up quarantine facilities for semi-urban or rural areas.
This document is prepared by People in Centre and MHT in partnership with SELCO Foundation under the project "Sustainable Housing Programme".
https://www.mahilahousingtrust.org/wp-content/uploads/2022/06/MHT_2_2020_Compendium-of-Norms-for-designing-Quarantine-facility-between-10-40-beds-in-Response-to-Covid-19.pdf