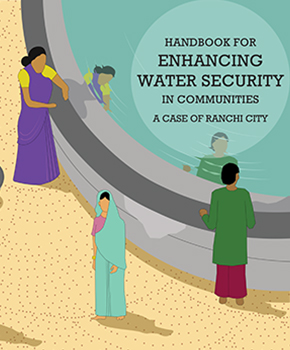 Handbook for Enhancing Water Security in Communities: A Case of Ranchi City
Unorganized city growth in Ranchi has led to an over-reliance on groundwater from borewells in informal settlements. In order to reverse these trends, Integrated Design (INDE) worked for Mahila Housing Trust (MHT) to frame interventions to be made at settlement level for better management of surface water, recharge of groundwater as well as proper location and management of sanitation within the settlement. This led to the revival of traditional water sources as well as increased the resilience of the community to water stress.
This handbook was compiled by Integrated Design (INDE) for Mahila Housing Trust (MHT). The steps and processes outlined in this handbook have been implemented as part of a pilot project in the settlement of Bara Ghagra. The pilot project sought to recharge and improve the quality of water in the selected open wells of the settlement.