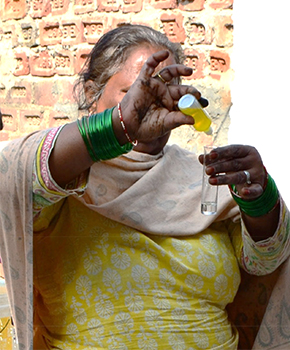 Identifying Water Problems in India: Guidelines for Simplified and Easy to Perform Hydrogeological Investigations
This training manual was prepared within the project "Women's Action towards Climate Resilience for Urban Poor in South Asia" under the lead of Mahila Housing Trust. This project took place in the frame of the Global Resilience Partnership (GRP). The Hydrogeology Group of Freie Universitaet Berlin (FUB) was responsible for hydrogeological investigations in two study areas in Jaipur, Rajasthan, to develop community-based water management. This manual is based on the experiences gained during the 1.5-year long field study in Jaipur.
The manual is designed for use by NGOs working with poor communities and wanting to develop or improve their WaSH (water, sanitation, hygiene) programs by integrating hydrogeological knowledge into their actions. It has three units to enable women and youth to understand and assess the water (and sanitation) situation in their communities under the guidance of a local organization.