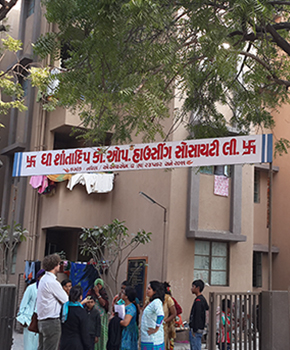 Affordable Housing and Land Rights
Because of lack of community engagement and transparency in the program guidelines, inability of the poor to access finance, and weak tenurial systems, the intended population is often unable to participate in these programs.
MHT has a multi pronged approach towards ensuring decent housing for poor. It enables the participation of poor communities in government housing programs by creating awareness, mobilizing them to access finance, and assisting them in the application processes. After allotment of housing units, MHT also works closely with the residents to form Resident Welfare Associations (RWAs) and trains them to manage and monitor community infrastructure. MHT also recognizes that direct provision of housing by Government alone will not be able to solve the affordable housing crisis in India. To bring in large scale change, market housing will also have to be made more affordable and accessible for the poor. Towards this, MHT works with government at all levels influencing policies, negotiating urban town planning & tenurial systems, and advocating for removing regulatory constraints that make housing more expensive.