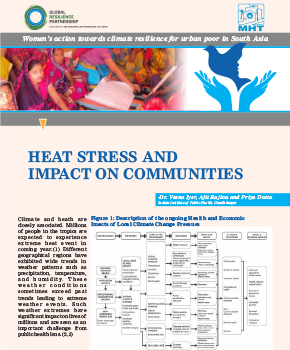 Heat Stress and Impact on Communities
Studies reveal that slum areas and the urban poor are significantly more prone for heat related hazards. Along with this, their location in the city, socio-economic conditions, and their dependency on resources and services that are vulnerable to climate change make them more prone to the health hazards. Heat affects people through dehydration, acute heat illnesses (such as heat exhaustion and heat stroke, and the worsening of chronic cardiovascular and respiratory diseases. The urban residents and particularly people from low income groups are at elevated risk due to high population density, compromised access to safe drinking water, exposure to high temperatures, and little access to cooling such as shade, fans, air conditioning, and other protective measures. Due to lack of cooling methods, heat impacts both the health and economic conditions of workers in such situations.
This brief studies adverse impacts of heat on people from low income segment.