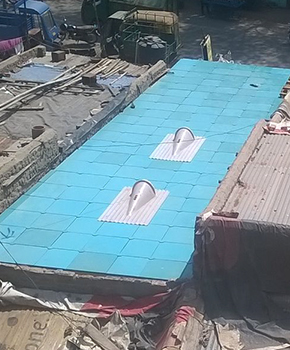 Technologies to Combat Heat Stress
Extreme heat events aggravated by urbanization and the concomitant urban heat island effect.The urban poor living in heated concrete boxes, with no windows, ventilation, and no or little access to shade,fans, and other cooling technologies, are the most affected population group. Adding to this, is the exposure to heat due to occupational compulsions especially those requiring to work outdoors in construction, street vending, etc. Productivity of women home based workers, who mostly work in afternoons could also go down sometimes up to 50% in summers resulting in reduced household incomes and increased financial burden (Focused Group Discussions with Communities). MHT has been working to enable access to basic services and better habitats for the poor.MHT, plays the essential role of a technology incubator in this process. Our role is not developing the technology solutions but enabling a series of process innovations which help the solutions to be tested, validated and customized as per the needs of the poor communities, especially women. Identification, piloting and validation of solutions for cooler homes and transport for the poor is one of the critical objectives of the programme, as we strive to build resilience to increasing heat stress in India.
This document talks of increasing heat and cooling technologies adapted by MHT to facilitate urban poor combat this heat stress.